BULK BUY DISCOUNT - SAVE £10.00
149 x 5* REVIEWS from GOOGLE, FACEBOOK & YELL
BIRTHDAY GIFT IDEAS
PREMIUM GIFT IDEAS for SPECIAL OCCASIONS 
**SHOP NOW OPEN with SECURE ONLINE PAYMENT.**  FREE DELIVERY on purchases over £20.00 & DELIVERY to I.O.W ADDRESSES ONLY.   PURCHASE our  Gift Vouchers, Winter Car Care Packs OR various car accessories. 
Driving Lessons On The Isle Of Wight.
The Isle  of Wight ( I.O.W ) Driving Academy is a family run premier driving school serving the Isle of Wight with an extremely high first time pass rate of 74% for 2021 .
We emphasise professional tuition, therefore giving our students the highest quality of training. We have 132 x 5* Reviews from Google, Facebook & YELL which makes us the highest reviewed Driving School on the Island.
The training of our driving instructors is what makes our driving academy so successful and ensures we are very well qualified to teach you. Our founder, Paul Cole, has even attained Grade 6 Approved Driving Instructor status (only 6% of UK Instructors ever reach this standard  (it's classed as an accolade within the Industry ) Paul has also qualified as a Grade A Driving Instructor under the new criteria. We aim to make our students the safest possible drivers for their test and for the future. Our driving lessons are structured and tailored to each individual pupil's requirements. We want to make your driving lessons enjoyable, fun and relaxed.
With structured training you will be amazed at just how soon you can get your licence.
"OFFICIAL" – 100% 1ST TIME PASS RATE for INTENSIVE DRIVING COURSES for 2019… The Islands leading provider of driving courses for Learner Drivers….  7 out of 10 students pass  their tests 1st Time with the Academy on  regular lessons…
DRIVING LESSONS & COVID PROTOCOL.
We have already got our PPE and are set to go. We are  using temperature guns to check students before they enter our cars.
We want to reassure everybody that we will make the environment, you & us as safe as possible.
Thank you & we look forward to seeing you .
SILVER GIFT PACK.
£98.99
                                     RRP £114.42p
SAVE £15.43p + FREE DELIVERY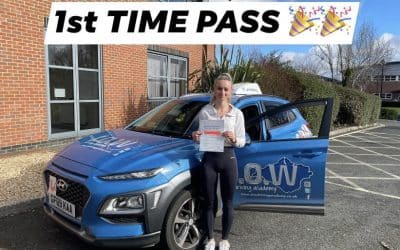 1st Time Pass with Alice at the Academy! Congratulations to Alice Oatley on passing her driving test today, Wednesday 9th February 2022 at her first attempt. Well done Alice, this was a fantastic result today and very well deserved. You demonstrated a high level of...
read more